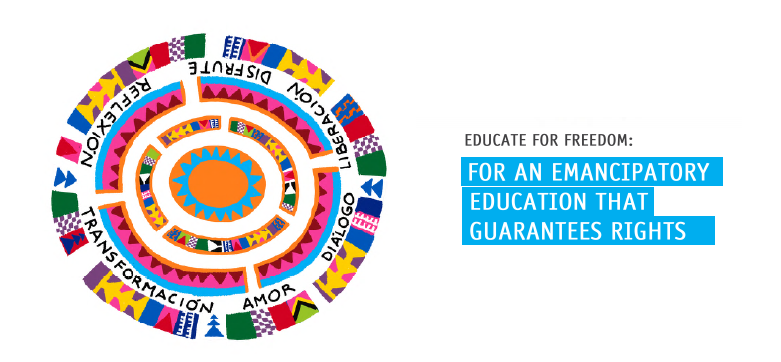 Education for freedom: CLADE launches document about emancipatory education
May 21, 2019
Download the document: 
The publication, launched in the context of the initiative "Education for freedom", brings together reflections and debates gathered by CLADE network on this subject, addressing the right to education from an integral and holistic perspective, in its connection with: freedom, social transformation, decolonization, democracy, gender equality, communication and technologies, arts and culture, affection and care, as well as bodies and territories.
Its reflections offer ways for an emancipatory education that contributes to the formation of societies free from all oppression, and also to transform the lives of children, adolescents, young people and adults through reflection, dialogue, critical thinking, and the skills to question, discern, imagine and act towards other possible worlds.
"Education should contribute to people being in tune with their time and space, knowing their territory, context, history and cultural diversity. Therefore, spaces and processes of informal, non-formal and formal education must be related, promoting culture and knowledge, research, education and extension, contributing to economic, social and environmental justice", the publication points out.
Release
The document was launched on May 21 with a virtual dialogue, with the participation of Luna Contreras, popular educator and director of the Democracy and Global Transformation Program (PDTG, by its Spanish acronym) Tejiendo Saberes Perú; Martín Ferrari, an Argentine popular educator and one of the directors of the documentary "Education in movement" (Educación en Movimiento), and María Cianci, education and research coordinator of ALER. The dialogue was moderated by Rosa Zúñiga, general secretary of CEAAL.
If you weren't able to participate in the event, you can access the recording of the dialogue (in Spanish) through the following link:
---